Shopping Cart
Your Cart is Empty
There was an error with PayPal
Click here to try again
Thank you for your business!
You should be receiving an order confirmation from Paypal shortly.
Exit Shopping Cart
Tourism Related Equestrian Competitions Limited
"The Abbey Cup"
Sponsored by Winfried Bastian the Abbey Cup is awarded to the leading rider of the competition year.
Bastian is a founding member of TREC Ireland.
The cup is named after his mare Abbey Pierre who was a force to be reckoned with !
The league runs from October 1st to September 30th each year.
Rules
Riders:
This competition is only open to TREC Ireland members. A rider, who is not a member on the day of a qualifying competition,
will not receive any points.
Competitions:
Full three phase competitions and the MA/PTV Championships qualify for points towards the league.
Event notifications must confirm that the event is a league qualifier.
Points:
Placing Points Bonus Points
6th place 1 Level 1 0
5th place 2 Level 2 1
4th place 3 Level 2a &Level 3 2
3rd place 4 Level 4 3
2nd place 5 Individuals 2
1st place 6 Attendance 1
If there are less than 3 riders/pairs in a class, no bonus points will be awarded.
Only half of the placing points and bonus points are awarded for the MA/PTV Championships
The results of every qualifying competition and the league table will be published on the TREC Ireland website.
The Kaspyr Kup
Affiliated TREC Groups Team Perpetual Trophy
Sponsored by Celie O Rahilly awarded to the best Affiliated Group team at the TREC Ireland Championships.
Rules 2023
To be contested by a team of riders representing their group. There would be a minimum of 3 riders, maximum of 4 per team.

To be contested at the TREC Ireland Championships annually. There must be a minimum of two teams competing for the Trophy on the day.

All team members must be TREC Ireland members.

A minimum of one of the team must have competed in at least one 'full' TREC event in 2022, i.e. all three phases of a one ore two day competition, prior to this competition.

The Affiliated Group must (if eligible in second year of existence) have paid their affiliation fee to TREC Ireland.

The team can be made up of riders at any level, e.g. all the same level or a mix.

Entry fee per team: €15/€20 or €5 per rider.

Entries, from the Group Secretary, with team details should be submitted on the official entry form by the closing date.

Np rider can represent more than one Affiliated team.

Each Affiliated Group can field as many teams as they wish.

The highest three scores count.

Bonus points will be awarded to riders as follows: Level 4: 30. Level 3 : 20. Level 2 : 10. Level 1 : 0.

Team riders must be permanently residing in the 32 counties.

Entries to Diana O hUid.
TREC IRELAND NATIONAL CHAMPIONSHIPS, 2018.
THE FIELD EQUESTRIAN CENTRE, CO LAOIS, SUNDAY JULY 22ND

Sunday, 22nd July dawned bright and clear as riders prepared themselves and their mounts for the TREC Ireland National Championships. The venue was The Field Equestrian Centre at Ballyadams, in Co Laois, with the kind permission of Robert Owens and Kenna Chapman. The Field EC was the perfect setting for the Championships, with its fantastic all-weather cross country course and its surrounding forestry and scenic countryside. Leinster TREC were the hosts and organisers.
As a National Championships, all three phases of TREC were to be included in the competition and Chefs de Piste were Leinster TREC's Paula Donohoe and Marie Gallagher and Traceurs for the POR were Sheila Fuller and Margaret Lynch. TD for the Championships was Bambi Carroll of Turas TREC.
The day started off with the MA (control of paces). This was laid out on part of the all-weather track, a lovely straight level stretch, but with the challenge of some jump obstacles and water feature alongside! This caused a few swerves and breaks in pace for some but many horses got decent scores here, giving them a good start to the day.
On then to the PTV (Obstacle) part of the competition, with its 16 Obstacles, planned by Paula Donohoe and Marie Gallagher This section started in the grassy paddocks and then continued onto and round the all-weather track. An excellent mixture of Style, Pace and Timed Obstacles meant that both rider and horse skills were challenged appropriately for a Championships. Obstacles included the Hedge, Gate, Shamrock, Water Crossing, S-bend, Mounting, Immobility (Ridden and In Hand), Footbridge and a final gallop to the Tree Trunk for those who wished! Several of the Obstacles also had a related difficulty, such as walking through water, and here riders and their mounts had an opportunity to show the partnership combination which is part of the original test for TREC.
After that test, riders presented their horses for a checkup, then had a welcome break before the afternoon's challenge of the POR (Orienteering). Levels on the day were 2A, 2 and 1, both Individual and Pairs and there was also a non-Championships class.
So - Hi-Viz gear was put on horses and riders, fly masks, fly spray, fly fringes all attached and all prepared for the hot day and for the Equipment Check. Riders then entered the Maproom, copied their maps and set off on their routes. With the help of Robert Owens, owner of The Field EC with his local knowledge & contacts, the Traceurs Sheila Fuller and Margaret Lynch had managed to put together routes with lots of off-road for all Levels, with some wonderful views, old castle ruins and a walk around a lake. Also to help with the heat, checkpoints were supplied with water for the horses. And as a final surprise and to cool off horses' legs, the last section of the route for all horses and riders was to enter and walk through a shallow forest stream for the last 250m back to the venue and final checkpoint.
Safely back at the venue, horses could be cooled off at the washbay before a rewarding haynet and rest. From then on, it was the Scorers, Brendan Gavin and Ros Lynch who were the busiest, as they compiled the rider's results from the various sections, adding points and subtracting penalties to find the winning combinations.
In the meantime, several presentations were made. A raffle took place for all helpers on the day, to thank them for giving so generously of their time. And presentations were made of horse/rider gear to Kirsten and Kayleigh McCormack, who will be representing Ireland at the Young Rider FITE Euromondial Championships in Italy in August this year.
Finally, the Results were out, the Championships places decided and the prize giving could take place. Trophies, rosettes & prizes from TREC Ireland were awarded to all who were placed in each class and a special crystal presentation prize was generously given by sponsor Patricia Foley of Ballyglass Farms to the winners of each class.
All who helped to make the day such a success were gratefully thanked and applauded and finally, tired but happy riders and horses made their way home to all parts of Ireland.
Results:
Level 2A Individual – 1, Strandhill Batman (Kirsten McCormack); 2, Robert (Ailbhe Gavin); 3, Gallarus Boy (Rosemarie Bryson).
Level 2A Pairs – 1, Regal Ivy (Celia Taylor) and Boynehall Benny (Sheaffe Monteith); 2, Ballycumber Blue (Katie Elwood) and Carlanstown Kid (Kayleigh McCormack); 3, Piccolo Boy (Bobbie Ovington) and Polly (Siobhan Wolf); 4, Juno (Trish Young) and Ginger (Sonia Serramia Ruiz).
Level 2 Individual – 1, Ballyclough Nugget (Sheila Winters); 2, Amber Sky (Patrick Byrne).
Level 1 Individual – 1, Coolroe Gold (Diana O'Huid); 2, Kedra Hugo Boss (Liz Burbage); 3, West Joey (Louise Parkes); 4, Trigger (Ellie Horgan).
Level 1 Pairs – 1, Cedergardim Ocean (Siobhan Ovington) and Teddy (Phillippa Christie); 2, Kleiner Onkel (Ulrike Schweder) and Sherry (Maria Schweder); 3, Apache (Joanne Robb) and Ringo (Lauren Robb).
Non-Championship Pairs – 1, Ballyphilip Gold (Ann Little) and Molly (Elaine Dolan Crowley); 2, Townend Lionheart (Chloe Brophy) and Rizzo (Sophie Crow); 3, Crosskennan Jethro (Ali Shields) and Zuko (Kerry Neill); 4, Maggie (Marissa Elliott) and Riley (Neil Kearns).
 
The beginning of a new season can be daunting in any equestrian sport and equally so in TREC. It is particularly difficult for riders hoping to move up the ranks to the higher levels. There are four levels beginning with the entry Level 1 with a maximum of 15km orienteering and 60cm jump height. At this level riders get a taste of what TREC is all about, spending lots of quality time with their horse and enjoying different parts of the countryside, while challenging their own and their horse's orienteering skills. Then moving on to level 2 where the distances and heights increase somewhat with slightly more technically challenging orienteering routes and PTV obstacles. There is a big leap from Level 2 to Level 3 and a rider moving up to Level 3 needs to be adept at using their compass and measuring distances both on their map and while riding their route on the ground. No mean feat !
This season TREC Ireland and Leinster TREC came together with a series of training events aimed at building rider confidence and helping riders move up the levels especially that challenging leap from Level 2 to Level 3. It started with an on foot day back in March facilitated by Niamh OhUid and Ailbhe Gavin where riders began to become acquainted with their compass and measuring distances and finding themselves on the map if they were "lost" ! This was without the added difficulty of being on the horse. This challenge came at the second training session at Coolmine Equestrian Centre this time facilitated by Bambi Carroll and Sheila Fuller. Here the horse was added into the mix. This gave riders the opportunity to put into practice what they had learned at the first session and discover areas that needed a little more work.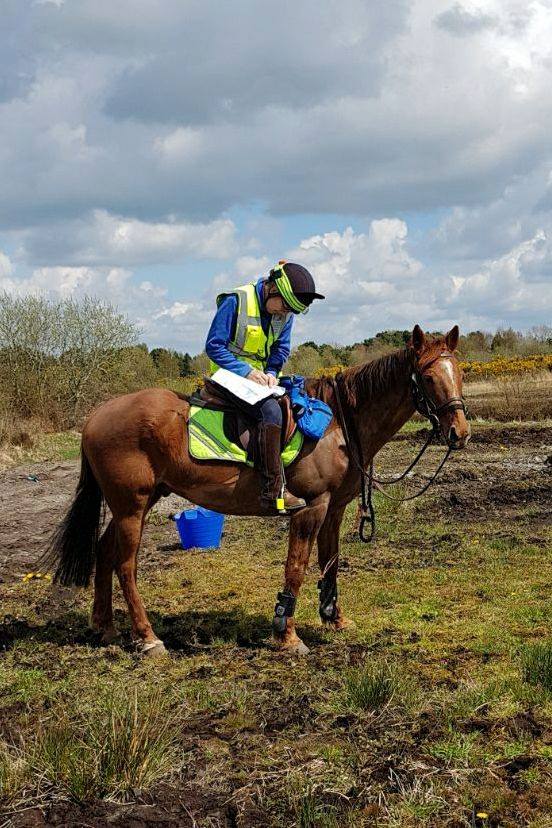 The third training session with Niamh OhUid and Diana O'Huid in April was around the Maproom. This is a critical time for the orienteering competitor who has a very limited duration in the Maproom to copy down their route from a master map onto a map which they will carry with them to find their way. If they don't get the route copied correctly or if they don't have enough time to copy the whole route they are lost before they begin !! There was an excellent turnout for this evening session where alongside nurturing Level 2 to Level 3 riders, riders new to TREC were also introduced to orienteering. There was a fantastic turnout of aspiring TRECCIES that evening.
 
 
 
The fourth step was to set riders the challenge of a competition, something which would not scare them off but build on that confidence which was increasing with each session. This was held at Loughway Stud in Timahoe at the end of April and Sheila Fuller set the routes guided by Gwen Bastien as TD. It was a very successful event with most of the Level 3 riders riding at this level for the very first time and nearly all of the riders new to TREC who attended the Maproom Training taking on the challenge of their first orienteering competition. Confidence was definitely building as riders were talking about entering the Open Championships at a higher level than they would normally ride !
Now it's on to the FINALE, the TREC Ireland Open Championships at Slieve Aughty in Loughrea, hosted by Turas TREC. Championship competitions are by nature much more challenging than a local competition so the bar is well and truly raised. Despite this there was lots of enthusiasm from riders now armed with new skills and there were riders from the training entering at all levels up to level 3 individual. Bambi Carroll and The Turas TREC team, guided by Adrian Flynn as TD, had truly challenging routes planned which were a delight to ride and lots of fun. This was also a lovely opportunity for riders from all the regions of Ireland and beyond (England, Scotland Wales and the USA) to come together and mix and mingle, sharing experiences and helping each other discussing difficult areas on the routes and more. ALL of the riders who attended the training were placed with some winning their classes and one of our Newbees to POR Ulrike Schweder came away with the Orla O'Reilly Memorial Shield for best Newcomer. Keyleigh McCormack came away with the Grangeclare Cup for the highest scoring Irish rider at level 3.
 
A truly successful Training Series !!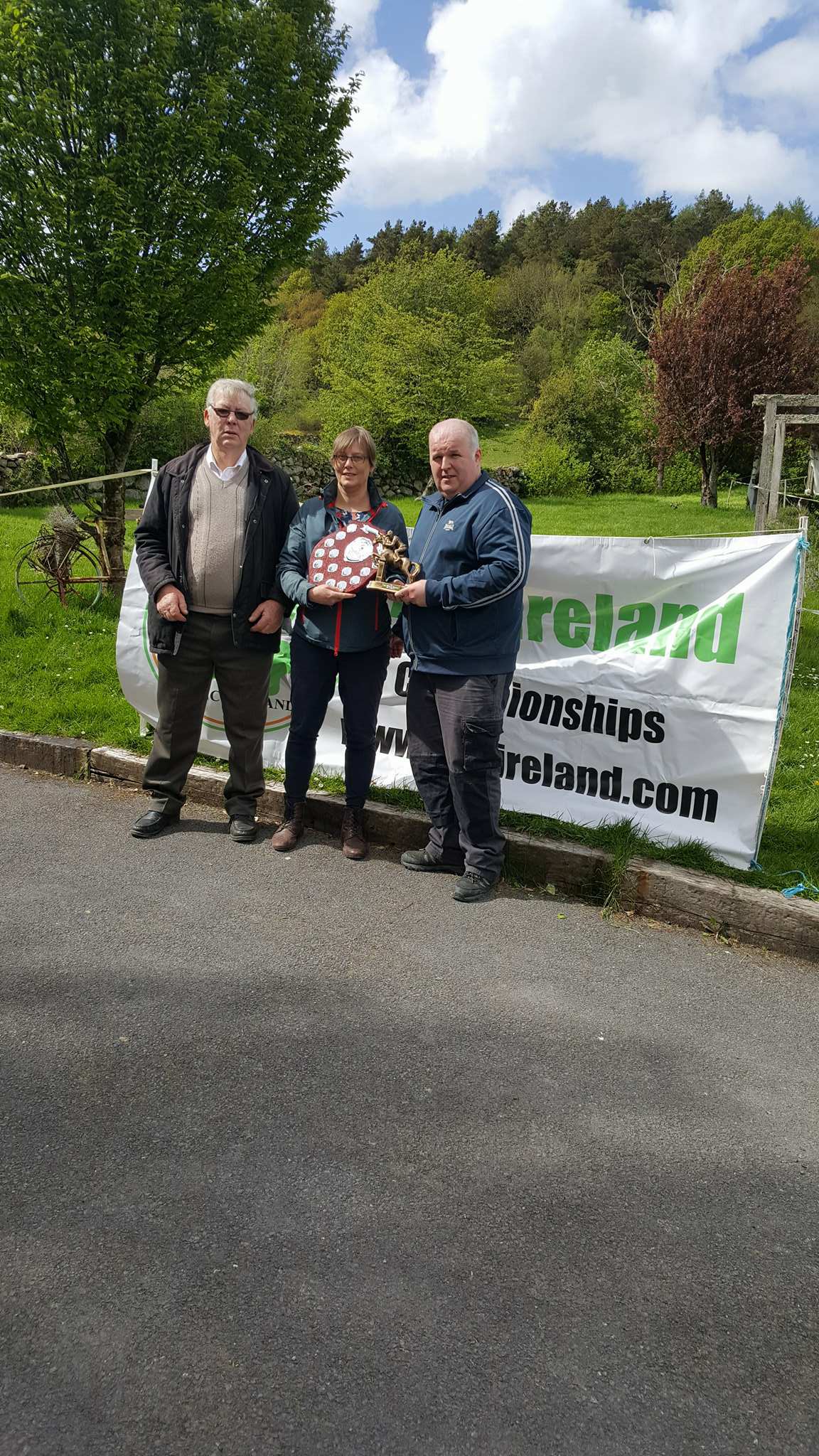 Thanks to Anna McCarthy for sending in this:
Annas Trec adventures
story one
where do I start my family are never too sure whether it's good or bad when I go off to trec they see the great enjoyment I get from it but then they have to listen to my reminiscences and stories for days and days afterwards ,then for months and years afterwards I see them cringe when I start to tell the same story over again but always with the same enthusiasm I
I have been lucky enough to do trec pairing at different times with all three of my kids and I have to say these times have always been great very fun times being able to share the whole experience together never once has there been an upset .one can only laugh about mistakes especially in orienteering because afterwards they are so ridiculous ,when you look back later at the map ,and realise where you went and where are you should've gone !
the best story regarding this was at a trec orla organised at Rath Mullen Donegal it also taught me don't be like a sheep and follow the one in front !
my 15-year-old son and I came out of The map room very confident as always I said did you notice we go away from the start across the field not the beach? we were very smart cookies !so off we went feeling very smug and at the bottom of the field met the pair who had gone out in front and had a great laugh as they had gone the wrong way, down the beach ,and we so clever we went the right way ,so off they headed just in front, but we took time to check the map road crossing and small bridge, all good !,,following along behind the others happily ,then arriving 10 minutes later in Rath Mullen ,(which we had been told at the start was where we were... not.... to go )O dear must've gone wrong couldn't work out problem at all ...then there was another pair joined the confusion ...eventually... We got to a check point and caused more mayhem at eight of us there at once....the real laugh was when we got home I looked at the bigger picture on map route showed us to go away from the beach at right angle and here we were all running up and down the road lost and this road was perfectlly parallel to the beach ....so we learnt that day to always look at the bigger picture
story 2 to follow
Man training naughty dog in mountains
Kerry is our first guest blogger, and is with North West TREC. Take it away Kerry:

My 1st adventure was at Lissan House in Co Tyrone via a friends invite.
With a hastily borrowed horse (Lenny) and a lift from Ali we set of for the 3 phase competition (no easing in for me!!)
PTV was mmmm..... interesting. I hadnt a clue what to do at any of the obstacles so I watched Ali. Then it was my turn!!
I scored 94 which I was thrilled with. I loved all the comments on the score sheet. They were really helpful for a complete novice like me. I especially liked the one for Immobility *DID NOT STOP* I vaguely remember Lauren sitting on the ground with Trudi munching some grass, as I thundered pass!! *Watch out for those nerves*
Ali and I had loads of laughs on the orienteering phase with Kim and Denise (4 heads are better than 2, surley). We did NOT get lost, just didnt follow the exact route haha!
Then finally the MA (Control of pace) which wasnt as easy as I thought.
All in all it was a fabulous day and I was hooked. I have been to a few more Trec competitons and training days since then and can say no one is the same.
Treccies are a real helpful, funny bunch. Always quick to give support and advice. I've met some wonderful people through Trec that I'm lucky to call my friends.
TIPS: Dont miss any obstacles and dont get in your horses way.
Also remember your mobile phone can send your compass haywire.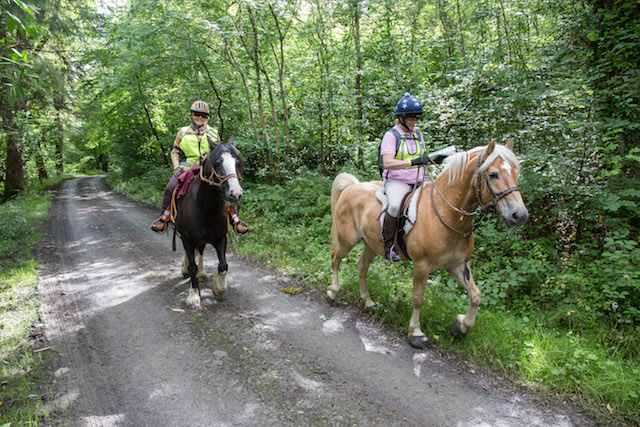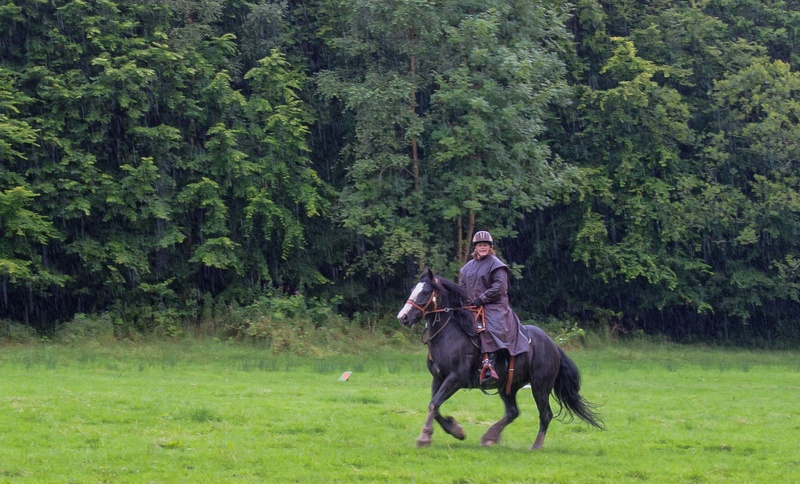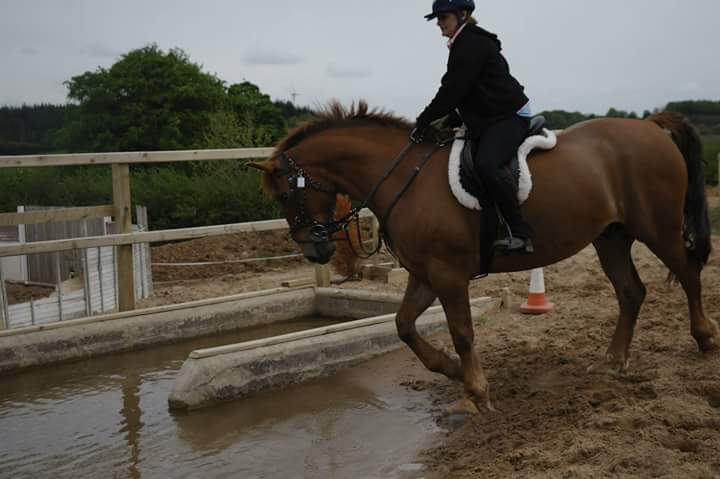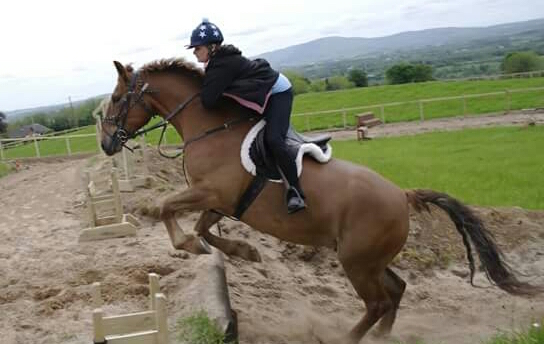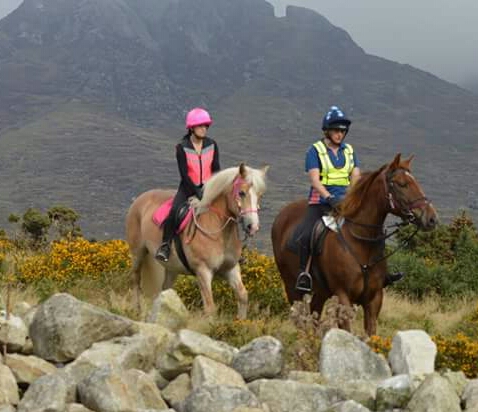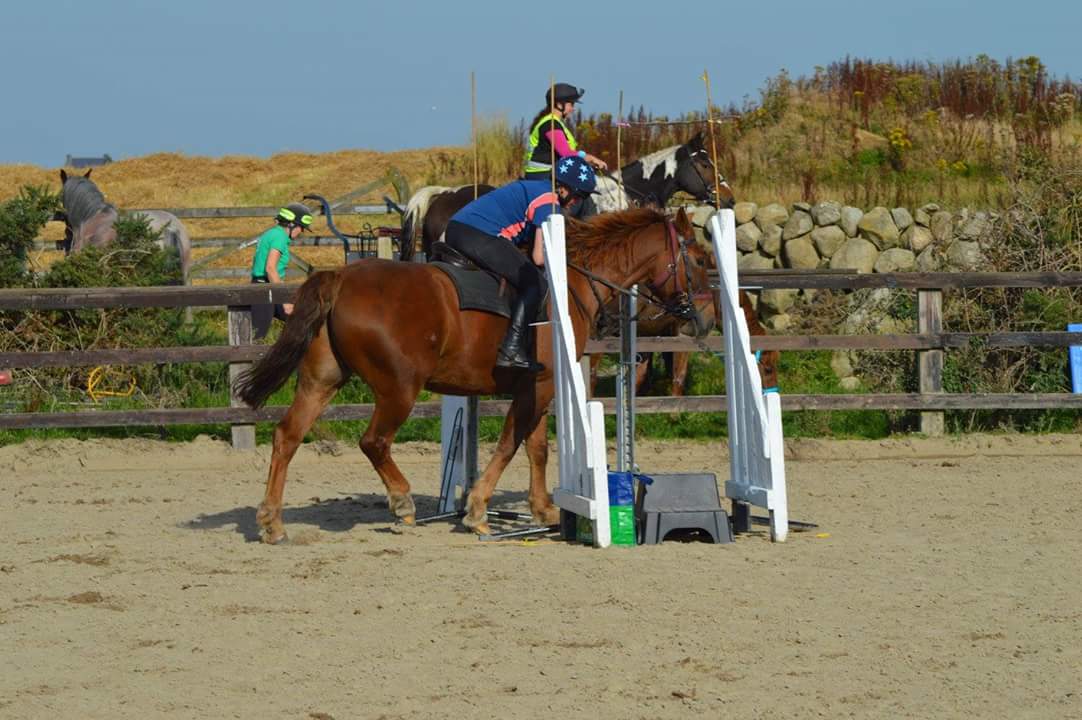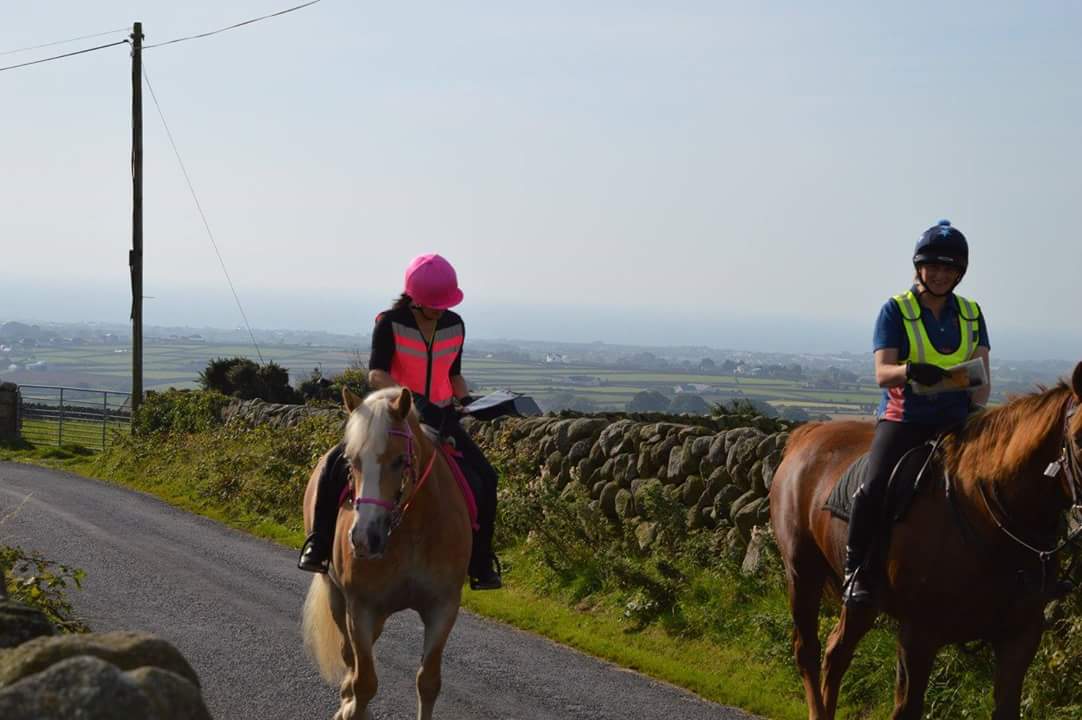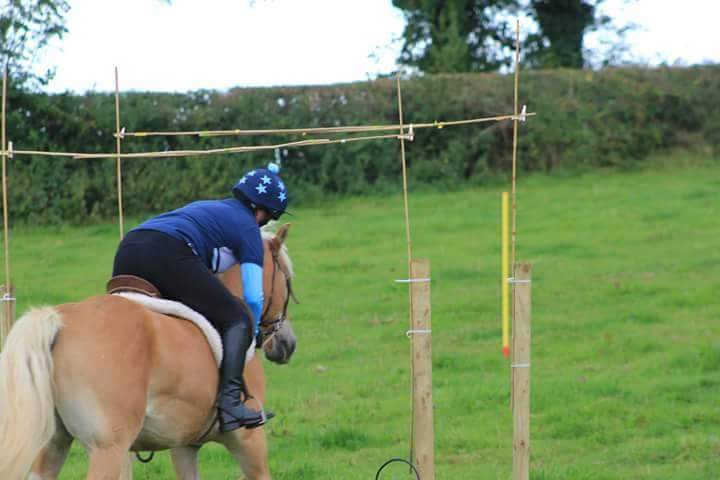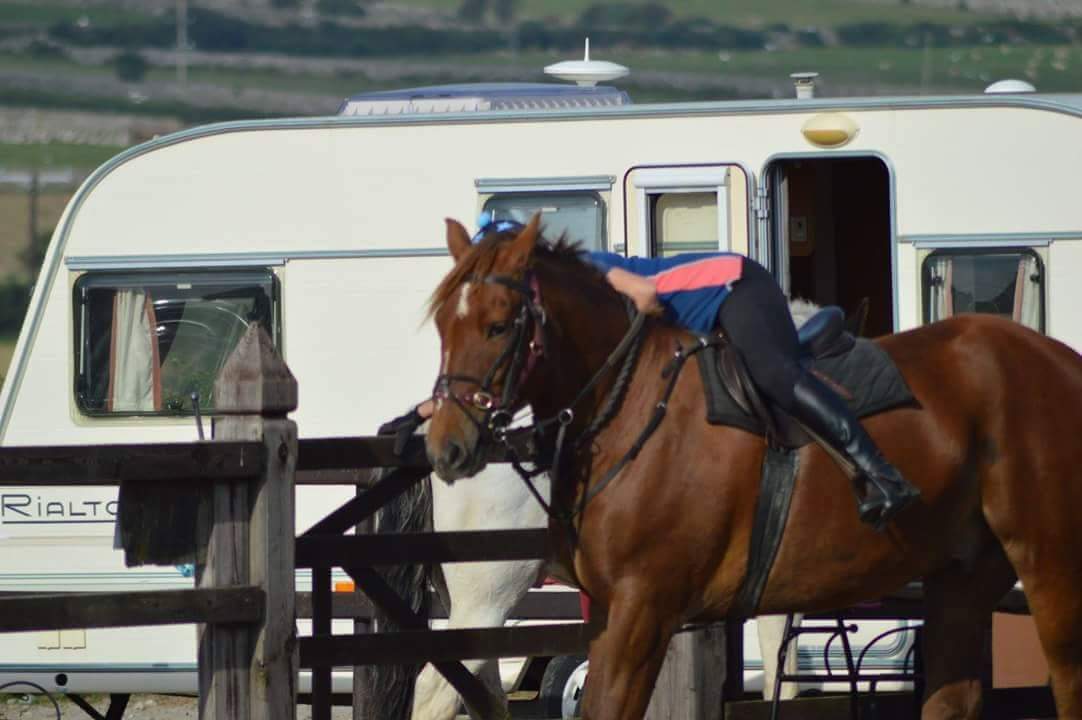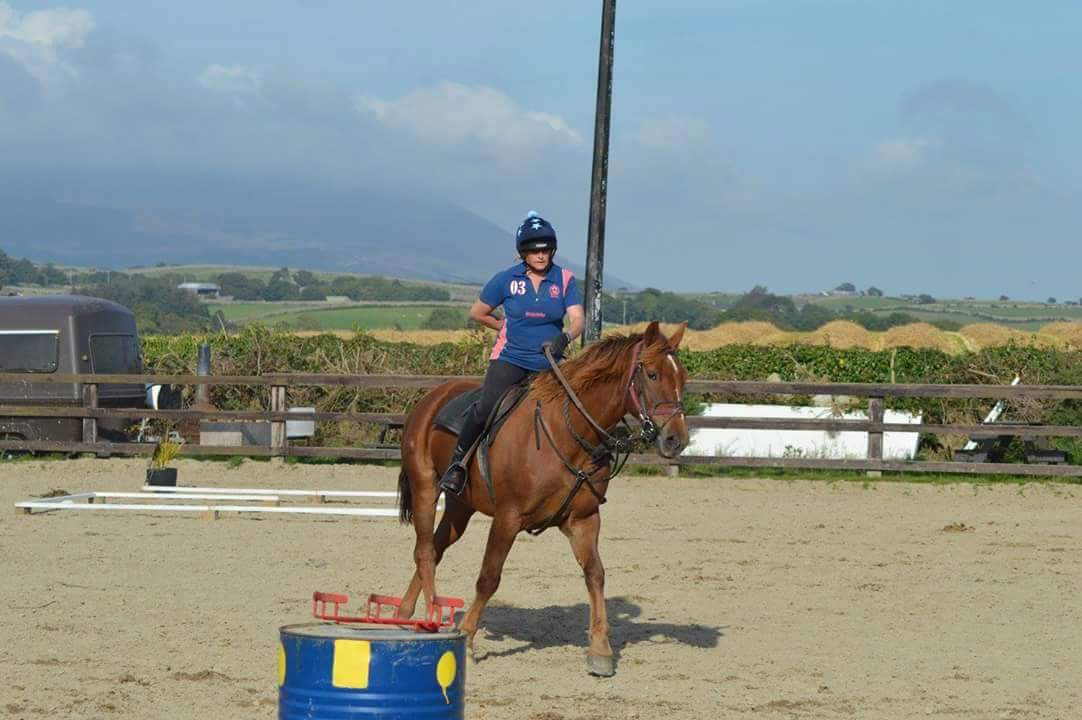 LEINSTER TREC �?? HORSEMANSHIP WEEKEND (16/17 June, 2018). The excitement levels were high and the atmosphere was electric as a host of riders arrived on the Friday afternoon at Spruce Lodge EC in Co Wicklow for Leinster TREC�??s very first Horsemanship Weekend, over the 16th and 17th June, 2018. Organised by Caroline Aragane, the Keogh family�??s wonderful facilities were perfect for the various training sessions throughout the weekend. A magnificent all-weather arena, part of which includes X-country obstacles and a water complex, was the principle centre of action. And for non-riding activities, a conference room for the scheduled talks and canteen facilities for refreshments on site were also provided. Furthermore, top class stabling for the horses meant that riders could have everything to hand for the whole weekend. Day One (Saturday) started with riders being divided into 2 groups, according to their TREC level and skills, ready for their 1.5 hour session. One group went with Nicky Mummery (HSI Level 1 coach & biomechanics practitioner) to practice PTV Obstacles around the water complex while the other group accompanied Orlaith Delamere (HSI Level 2 coach and 2* Event rider) to the other half of the huge arena to polish up their flatwork and way of going. Nicky�??s first focus was on the riders�?? position and the biomechanics of this in relation to the horse�??s movement. After helping riders to make a few adjustments and also practicing how to ride a light seat, it was time to start the obstacles. First was the Water Crossing, which was tackled by a confident horse �??buddying�?? one with less experience. This was a very successful technique and very rapidly all horses were happily striding through water by themselves with no hesitation. Next came the Step Up, and again to build confidence, horses started with a small Step and then moved to a higher one, with no problems. On to the Ridden Drop next and at this point, some excitement began to creep in, with some horses doing it calmly whereas others clearly thought it essential to leap off! However, the calm atmosphere and lots of repetition meant that all finally took it in good style. Nicky�??s reminder to �??Look Up!�?? was a frequently heard comment. Next came the Hedge, with 2 pretty troughs of flowers underneath. But they were no problem to any of these horses, who all took the obstacle beautifully. And finally, on to the Ditch. This was approached in small steps again, to build confidence. The riders who wished to do it In Hand first were encouraged to have a go and then mount and try it Ridden. Others who were more confident or experienced tackled it straight away. By the end, all riders had successfully jumped over the Ditch and it was a great way to end the morning session on a high note. Meanwhile, Orlaith had also started her group preparing for their flatwork session. She first asked how long each rider had owned their horse and also about the horse�??s background. Then she checked on the riders�?? position and contact through the reins, giving some correction and advice to each. As the lesson progressed, Orlaith encouraged riders to keep moving forward in a good rhythm, while keeping straight on the long sides of the arena and using a nice bend around cones placed at intervals. She also used plenty of transitions up and down through the paces, to help horse and rider keep their focus and improve their whole way of going, while all the time commenting and suggesting on how riders might help the horse go better. By the end of the session, it was noticeable how well the whole group were moving and the improvement in both horses and riders. Everyone was more than ready for refreshments after that. Horses were comfortably stabled with their lunch while riders headed for the Canteen where Caroline�??s Mother and her friend, Marion and Liz, and daughter Jess, had prepared a multitude of delicious sandwiches and cakes for all, which were eagerly devoured (Thank You!). On then to the next session of the day I the Conference room, a talk by William Micklem, entitled �??Going over the E.D.G.E.�??. This 2 hour session, which flew by, was truly inspirational. Drawing on his life experience and using research and quotes from many reputable organisations and individuals, William summarised his findings into a simple acronym: E= Enquiring �?? develop an enquiring mind, keep asking questions. Learn. Have a GO! D= Demanding �?? keep stretching yourself. Have another GO. G= Generous �?? cherish difference. Cherish your own skills. Have empathy. Have another GO. E= Empowerment, the total of the above three together. And many of those present thought his best quote was �??Inch by Inch, life�??s a cinch, yard by yard, life is hard�?? and riders could be heard quoting this one to each other throughout the rest of the weekend, such was the impact of William�??s excellent and motivational talk. Back in the saddle then, for the afternoon sessions and this time the two groups swopped over, with Nicky taking the flatwork group from the morning to now work on their PTV Obstacles and Orlaith taking over the PTV group in order to improve their flatwork. Serious faces and great concentration were observed as riders endeavoured to make the most out of these coaching opportunities, also inspired further by William�??s lunchtime talk. End of the day�??s training, and tired horses and riders returned to stables to bed down (horses!). Riders refreshed themselves and then met up for a meal in Micky Finn�??s Pub in Redcross village, where a Spanish Tapas night with delicious food and authentic live music was included in the weekend�??s entertainment. And so to bed, ready for the next day. Day Two (Sunday) started with Nicky�??s group continuing with the TREC PTV Obstacles, this day including the Low Branches, the Slalom, One-Handed Figure of Eight and the S-bend. As before, all obstacles were tackled �??step by step�?? so that success was experienced at all times, many horses for example ending up cantering the Low Branches successfully. And during the session, horses once more had opportunities to refresh the previous day�??s obstacles so the Water Crossing, Ditch and Hedge were also practiced. By the end of the session, confidence was really high with both horses and riders working as a team to successfully complete the obstacles, and the more experienced riders getting chances to tackle bigger obstacles as well. Meanwhile, Orlaith�??s group had moved on to a Jumping session with a large number of poles and jumps laid out around the huge arena. Following on from the previous day�??s approach, steady progress was the order of the day to achieve success. Orlaith started with a series of trotting poles, either on a straight line or after a turn. As horses and riders got their eye in and rhythm developed, she progressed to working on turns into a jump followed by a dog leg to another. All done with trotting poles at first, followed very soon after by raising each jump to X-poles. This having been successfully jumped, Orlaith then made each into an upright, and it was really obvious how this steady approach led to success as each horse and rider confidently tackled the jumps and managed to cope with the dogleg turns. By the end of the session, the more experienced riders also had the opportunity to jump higher jumps, with cheers and yippees being heard after each successful clear, as onlookers and riders enjoyed their achievements. On then again to another delicious lunch in the canteen. And this time the talk in the Conference Room was by Joe Tobin, Master Farrier, entitled �??Your Horse�??s Feet�??. Joe has a wealth of experience and knowledge gained over 30 years and he also judges at the RDS as well as internationally. He brought along a collection of over 40 different horseshoes used for many purposes and explained how many could help the horse. He also had some sections of legs and hoofs and it was a revelation to actually see the inside structures in reality, rather than as a diagram in a book. Joe was a very entertaining speaker, who had a wealth of anecdotes gained over the years, and the time flew by as he answered many questions from his fascinated audience, who gratefully thanked him for his time and patience. Finally, back in the saddle once more for the last session of the weekend. And as before, Nicky and Orlaith swopped groups and the afternoon sessions were a repeat of the morning�??s ones, for the different groups. Despite the demands of the whole weekend, both horses and riders were still willing and able to find the energy to get the most out of their training. Even the weather co-operated and what had been some rain in the morning turned into a fine hot sunny afternoon to finish on a high note. So the whole weekend ended with smiling faces and high spirits. Everyone had a great time and learned a huge amount, gaining in confidence and partnership with their horses. Sincere thanks go to Caroline Aragane and her family for organising a seamlessly perfect weekend for horses and riders, to the two trainers Nicky and Orlaith for their excellent coaching, to the two excellent speakers, William Micklem and Joe Tobin, and to the Keogh family for the use of their truly wonderful facilities at Spruce Lodge EC. -- Sheila Fuller
/