Shopping Cart
Your Cart is Empty
There was an error with PayPal
Click here to try again
Thank you for your business!
You should be receiving an order confirmation from Paypal shortly.
Exit Shopping Cart
Tourism Related Equestrian Competitions Limited
"The Abbey Cup"
Sponsored by Winfried Bastian the Abbey Cup is awarded to the leading rider of the competition year.
Bastian is a founding member of TREC Ireland.
The cup is named after his mare Abbey Pierre who was a force to be reckoned with !
The league runs from October 1st to September 30th each year.
Rules
Riders:
This competition is only open to TREC Ireland members. A rider, who is not a member on the day of a qualifying competition,
will not receive any points.
Competitions:
Full three phase competitions and the MA/PTV Championships qualify for points towards the league.
Event notifications must confirm that the event is a league qualifier.
Points:
Placing Points Bonus Points
6th place 1 Level 1 0
5th place 2 Level 2 1
4th place 3 Level 2a &Level 3 2
3rd place 4 Level 4 3
2nd place 5 Individuals 2
1st place 6 Attendance 1
If there are less than 3 riders/pairs in a class, no bonus points will be awarded.
Only half of the placing points and bonus points are awarded for the MA/PTV Championships
The results of every qualifying competition and the league table will be published on the TREC Ireland website.
The fantastic weather was a real bonus today, and our competitors were able to enjoy sea views over Roaring Water Bay and Carbery Hundred Isles. Thank you to all the competitors, helpers and officials, especially Adèle and Shirley, they did a wonderful job with the route and the bearing tickets.
Special thanks to Billy for the use of the farm and his stables. The latter was multi-functional today, being the map-room at the start, and the tea room at the end of the day. Riders and helpers were able to congregate there while waiting for the scores to be processed, munching on Adèle's buttery flapjacks and May's wonderful buttered tea brack , all washed down with tea or coffee.
Results:

Level 2A Individual: 1st Kaldavan Cookie (Judith Perrin), 2nd Trigger (Ellie Horgan).
Level 2A Pair: 1st Ballyphilip Gold (Frances Whooley) and Molly (Elaine Dolan Crowley), 2nd Mikaela (Bridget Sheeran) and Diego (Niamh O'Carroll)
Level 1 Pair: 1st Faerietale Dreams (Karen Veicencio) and Mickey (Marlina Posthuma Quirke), 2nd Silversprings Sue (Mary Creedon) and Lucy Lucky (Richard Creedon).
Special Competition Level 2A bearing Accuracy
1st Ballyphilip Gold (Frances Whooley) 2nd Molly (Elaine Dolan Crowley), 3rd Mikaela (Bridget Sheeran) and Diego (Niamh O'Carroll), 5th Kaldavan Cookie (Judith Perrin) and Trigger (Ellie Horgan).
LEINSTER TREC POR (Orienteering)
BALLINAGAPPA HOUSE STABLES
SUNDAY, OCTOBER 7TH
Level 2A Individual – 1, Boynehall Benny (Sheaffe Monteith); 2, Robert (Ailbhe Gavin).
Level 2A Pairs – 1, Kal (Francis Whooley) and Molly (Elaine Dolan Crowley); 2, Floss (Anna McCarthy) and Wombat (Keelan McCarthy).
Level 2 Individual – 1, Ross ML (Caroline Aragane).
Level 2 Pairs – 1, Jack (Katie Smyth) and Fanta (Rachael Smyth); 2, Apache (Susanne O'Rourke) and Rio (Natasha O'Rourke).
Level 1 Pairs – 1, Kleiner Onkel (Ulrike Schweder) and Sherry (Maria Schweder); 2, Wilson (Judi Goor) and Charlie (Katie Egan) and Tango (Tina Fagg); 3, Dan (Laura Filan) and Sparky (Eithne O'Kelly).
The beginning of a new season can be daunting in any equestrian sport and equally so in TREC. It is particularly difficult for riders hoping to move up the ranks to the higher levels. There are four levels beginning with the entry Level 1 with a maximum of 15km orienteering and 60cm jump height. At this level riders get a taste of what TREC is all about, spending lots of quality time with their horse and enjoying different parts of the countryside, while challenging their own and their horse's orienteering skills. Then moving on to level 2 where the distances and heights increase somewhat with slightly more technically challenging orienteering routes and PTV obstacles. There is a big leap from Level 2 to Level 3 and a rider moving up to Level 3 needs to be adept at using their compass and measuring distances both on their map and while riding their route on the ground. No mean feat !
This season TREC Ireland and Leinster TREC came together with a series of training events aimed at building rider confidence and helping riders move up the levels especially that challenging leap from Level 2 to Level 3. It started with an on foot day back in March facilitated by Niamh OhUid and Ailbhe Gavin where riders began to become acquainted with their compass and measuring distances and finding themselves on the map if they were "lost" ! This was without the added difficulty of being on the horse. This challenge came at the second training session at Coolmine Equestrian Centre this time facilitated by Bambi Carroll and Sheila Fuller. Here the horse was added into the mix. This gave riders the opportunity to put into practice what they had learned at the first session and discover areas that needed a little more work.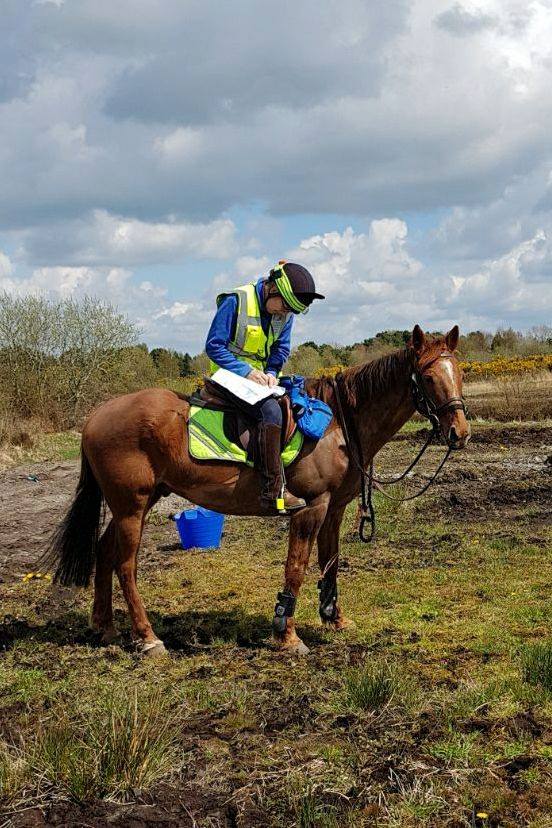 The third training session with Niamh OhUid and Diana O'Huid in April was around the Maproom. This is a critical time for the orienteering competitor who has a very limited duration in the Maproom to copy down their route from a master map onto a map which they will carry with them to find their way. If they don't get the route copied correctly or if they don't have enough time to copy the whole route they are lost before they begin !! There was an excellent turnout for this evening session where alongside nurturing Level 2 to Level 3 riders, riders new to TREC were also introduced to orienteering. There was a fantastic turnout of aspiring TRECCIES that evening.
 
 
 
The fourth step was to set riders the challenge of a competition, something which would not scare them off but build on that confidence which was increasing with each session. This was held at Loughway Stud in Timahoe at the end of April and Sheila Fuller set the routes guided by Gwen Bastien as TD. It was a very successful event with most of the Level 3 riders riding at this level for the very first time and nearly all of the riders new to TREC who attended the Maproom Training taking on the challenge of their first orienteering competition. Confidence was definitely building as riders were talking about entering the Open Championships at a higher level than they would normally ride !
Now it's on to the FINALE, the TREC Ireland Open Championships at Slieve Aughty in Loughrea, hosted by Turas TREC. Championship competitions are by nature much more challenging than a local competition so the bar is well and truly raised. Despite this there was lots of enthusiasm from riders now armed with new skills and there were riders from the training entering at all levels up to level 3 individual. Bambi Carroll and The Turas TREC team, guided by Adrian Flynn as TD, had truly challenging routes planned which were a delight to ride and lots of fun. This was also a lovely opportunity for riders from all the regions of Ireland and beyond (England, Scotland Wales and the USA) to come together and mix and mingle, sharing experiences and helping each other discussing difficult areas on the routes and more. ALL of the riders who attended the training were placed with some winning their classes and one of our Newbees to POR Ulrike Schweder came away with the Orla O'Reilly Memorial Shield for best Newcomer. Keyleigh McCormack came away with the Grangeclare Cup for the highest scoring Irish rider at level 3.
 
A truly successful Training Series !!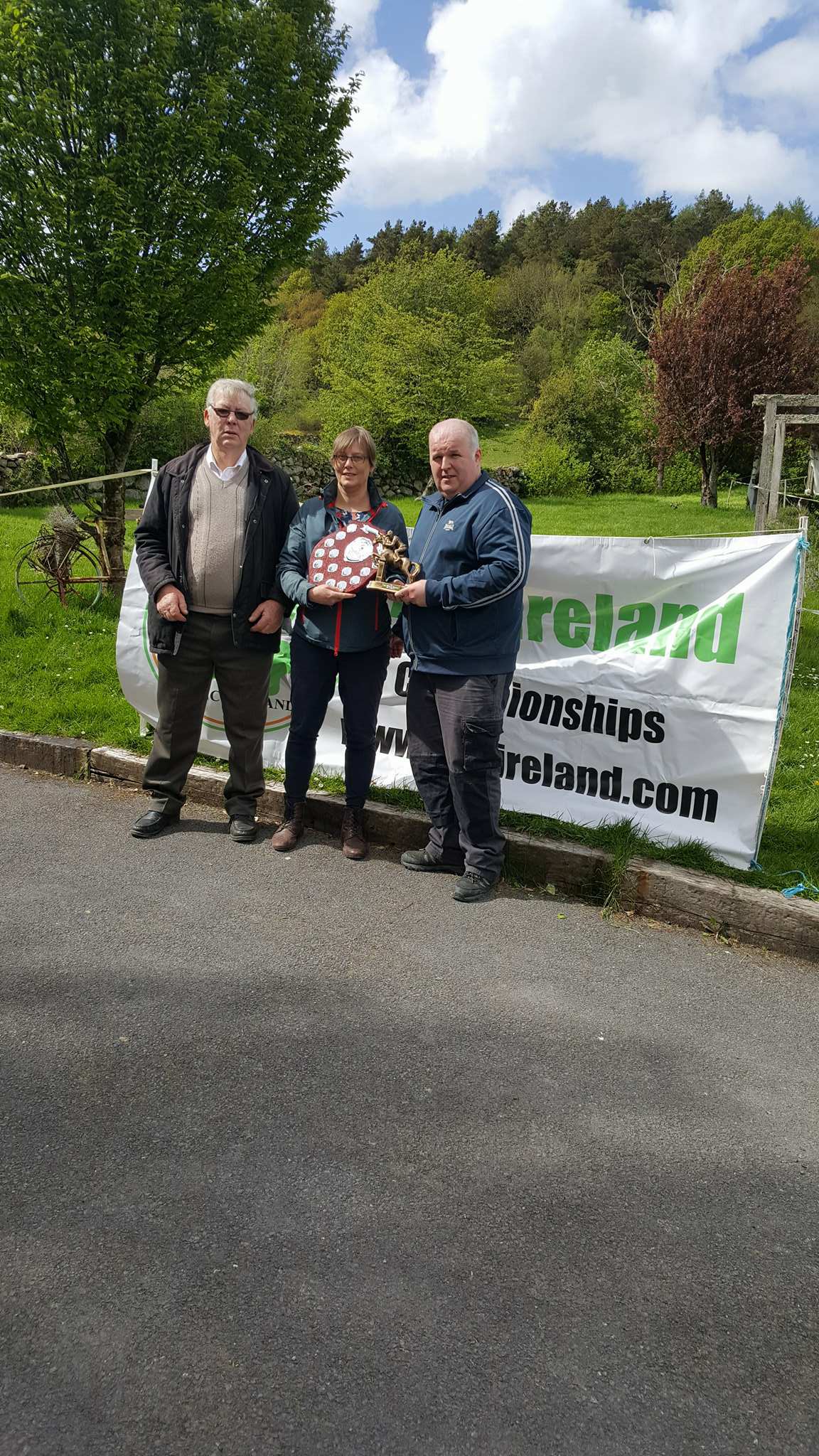 Thanks to Anna McCarthy for sending in this:
Annas Trec adventures
story one
where do I start my family are never too sure whether it's good or bad when I go off to trec they see the great enjoyment I get from it but then they have to listen to my reminiscences and stories for days and days afterwards ,then for months and years afterwards I see them cringe when I start to tell the same story over again but always with the same enthusiasm I
I have been lucky enough to do trec pairing at different times with all three of my kids and I have to say these times have always been great very fun times being able to share the whole experience together never once has there been an upset .one can only laugh about mistakes especially in orienteering because afterwards they are so ridiculous ,when you look back later at the map ,and realise where you went and where are you should've gone !
the best story regarding this was at a trec orla organised at Rath Mullen Donegal it also taught me don't be like a sheep and follow the one in front !
my 15-year-old son and I came out of The map room very confident as always I said did you notice we go away from the start across the field not the beach? we were very smart cookies !so off we went feeling very smug and at the bottom of the field met the pair who had gone out in front and had a great laugh as they had gone the wrong way, down the beach ,and we so clever we went the right way ,so off they headed just in front, but we took time to check the map road crossing and small bridge, all good !,,following along behind the others happily ,then arriving 10 minutes later in Rath Mullen ,(which we had been told at the start was where we were... not.... to go )O dear must've gone wrong couldn't work out problem at all ...then there was another pair joined the confusion ...eventually... We got to a check point and caused more mayhem at eight of us there at once....the real laugh was when we got home I looked at the bigger picture on map route showed us to go away from the beach at right angle and here we were all running up and down the road lost and this road was perfectlly parallel to the beach ....so we learnt that day to always look at the bigger picture
story 2 to follow
Man training naughty dog in mountains
The downloads section of the website has been updated, to include new categories and the most up to date sheets for PTV, guidelines for judging and more. 
If you are an event organiser, the 'Administration' tab will be your friend, as well as 'Rules', which contains the rulebook, and the 4 sets of guidelines for judging and stewarding. 
Riders and judges please note that the newest PTV data and score sheets (as of March 2015) are now online, and a separate set has been issued for the two ditch obstacles - in hand and ridden, to reflect changes from April 2015. 
Keeldra Lake, in Cloone Co. Leitrim proved an ideal venue for ThreeCounties TREC's first POR competition held 29th March 2015. With fantastic scenery and extensive countryside, tracuer and secretary Elaine Neary set interesting routes for both level 1 (approx 11km) and level 2 (approx. 16) which 'asked a few questions.'  Twenty entries were received from ranging from Cavan and even as far afield as Ollie Kyne an experienced "Treccie" from Co.Galway.
Despite the Leitrim weather, riders presented themselves in rain gear with their mounts ready for their tack inspection. Riders then went to the map room to copy the master map of the POR (orienteering) route and were told the expected speed for the first section of the ride.Remounting they set off as individuals or in pairs along the roads and tracks.
Check points & ticket points were set up in various unknown positions where the riders were timed and held before being set off at a new speed.  The accuracy of the map copying was essential to help keep riders on the correct route and following the horses ahead was no guarantee that they were on the right route either! Several competitors had an 'interesting ride' but everyone returned safely having had a great day.
Catering was provided by Sharon Garland in her endeavour to raise sponsorship money for her half marathon in aid of Temple street childrens hospital and anyone interested can donate via mycharity.ie
All riders had turned out in their Hi – Vis saftey wear,but a special prize was up for grabs on the day for the "Best Hi-Vis Turnout" in an effort from ThreeCounties Trec to promote riding road and saftey. This was awarded to young rider Aoibhinn Reynolds and Amanda for their superb effort! Both Amanda and Aoibhinn also took first place in the level one pairs section!
With a fantastic score of 249 points,first place in level 2 Individuals was claimed by Siobahn Cashin with her ID stallion The Devils Punchbowl otherwise known as "Muffin!" 
Running any equine competition involves a large number of helpers, stewards, judges and scorers and we would like to extend our our sincere thanks to all our volunteers, old and new, for helping to make it a very successful day.ThreeCounties TREC would especially like to extend a special thank you to our Technical Delegate, Karen Murphy (Midlands TREC) and Leinster TREC's Diana Huid and Sheila Fuller for stewarding on the day. We were also very fortunate to have the support of Noel Quinn from Hynes/Quinn School of Motoring for his genourous support.
ThreeCounties Trec will next be hosting a 2Phase CoP/PTV competition at the Leitrim Ploughing Championships in Ballinamore,Co Leitrim.
Please see our facebook page ThreeCounties TREC or our new website http://threecountiestrec.weebly.com/ for details and membership.
Article written by ThreeCounties TREC Chairperson Heidi Doyle.
ThreeCounties TREC POR Results March 29th
Level 2 Individual:
1st - The Devils Punchbowl - Siobhan Cashin
Level 2 Pairs:
1st - Jacinta Magennis – Velvet and Jacqueline Magennis – McHay Diamond
2nd - Siobhan McLoughlin - Trevor - and Siobhan Curran - Annabelle
Level 1 Pairs:
1st - Amanda Ni Sheridan - Abbey and Aoibhinn Reynolds - Cupcake
2nd - Hazel Tuthill - Smokie ; Alannagh Childs - Bobby and Amy Dunne - Murphy
3rd - Danny Scollan - The Icecreamfellow and Diane Wilson- Cloudy Eye
4th - Rob Steinke - Solero and Moira Cook-Hanaphy - Bess
5th - Ollie Kyne – Portability;Fiona McManus - Smokie and Megan McAvoy - Pumpkin
6th - Tara Brennan - Boynehall Benny - Conall Doyle - Raven - and Shauna Doyle - Misty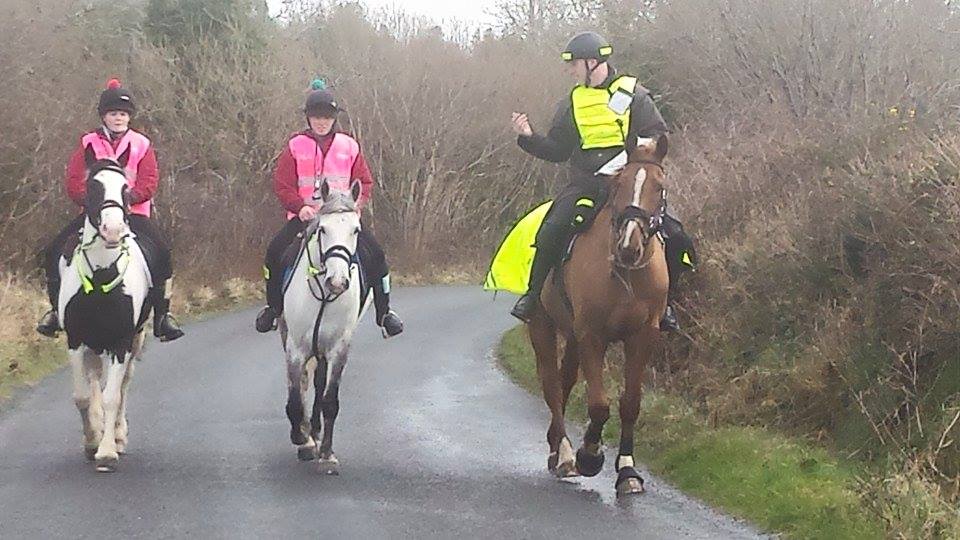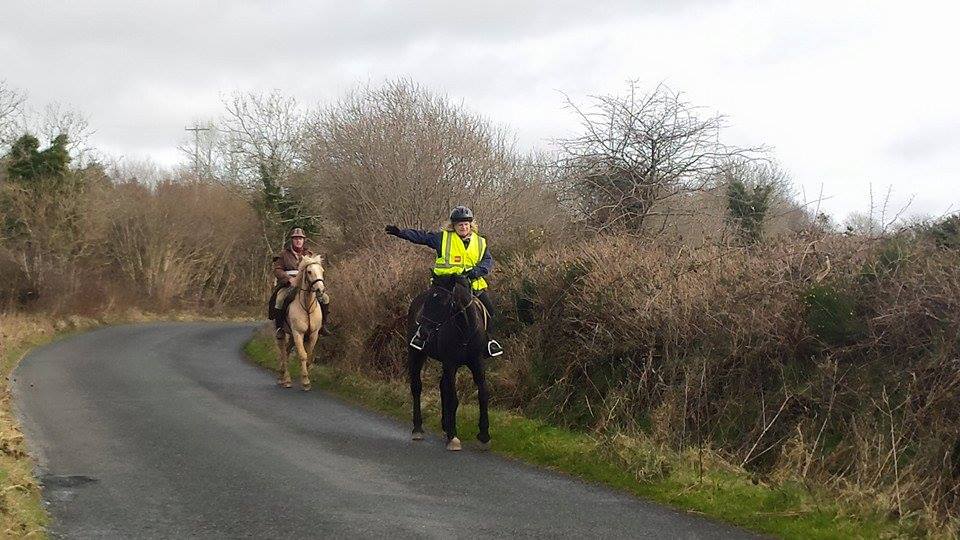 Leinster TREC had a beautiful summery day for their POR competition on Sunday 22nd March at the popular venue of Ballinagappa House Stables in Clane, Co Kildare. This was the first leg of the eagerly-anticipated annual Leinster TREC POR League and the organisers breathed a sigh of relief when the day dawned bright and sunny.
There was a phenomenal entry of 32 riders over three levels: 1, 2 and 2X.
The 2X riders started off with a bit of a shock in the maproom when their maps were taken and they were given bearings instructions. This brought them across the venue's lush pastures and thence on to quiet country lanes followed by forestry and bog tracks.
Levels 1 and 2 got to enjoy the picturesque lanes of the Ballinagappa area as well as the same forestry and bog tracks.
All riders returned with big smiles and full of enthusiasm for the next TREC competition. Huge thanks are due, as ever, to the organisers and volunteers.
Results:
Level 2x Pairs – 1, Monty's Mason (Sheaffe Monteith) & Solo (Niamh O hUid); 2, Regal Ivy (Celia Taylor) & Ross ML (Caroline Aragane); 3, Zaristo (Sheila Fuller) & Pennie Black (Trish Young); 4, Surprise (Paula Donohoe) & Haise (Marie Gallagher).
Level 2 Pairs – 1, Callie (Lorna O'Neill) & Bubbes (Geraldine McGuinness); 2, Lady Jane (Sophie Sauveroche) & Cocky (Louise Parkhill); 3, Maggie (Liz Burbage) & Duke (Vicky McMullan).
Level 2 Individual - Zee (Tara Creighton).
Level 1 Pairs- 1, Apache (Suzanne O'Rourke) & Bronte (Natasha O'Rourke); equal 2, Ben (Margo Monaghan) & Harper (Aisling Noonan) and Frere Jacuqe (Margaret Lynch) & Fellowsfield Freelancer (Louise Parkes); equal 4, Merlin (Helen McCormack) & Caspian (Kayleigh McCormack) and Eddie (Danielle Herbert) & Santo (Una Mion); 6, Winnie (Anne Smyth) & Temple House Lady (Diarmuid Smyth).
/